Product Description
FOXSEW Automatic Ring-Shape Belt Attaching Sewing Machine
Working Video-1: www.foxsew.com/company-video/automatic-bartacking-machine-for-backpack-belt-strap-991.html
Working Video-2: www.foxsew.com/company-video/automatic-belts-bartacking-sewing-machine-1063.html
Working Video-3: www.foxsew.com/company-video/automatic-ring-shape-stitching-sewing-machine-868.html
This machine is with Automatic Belt Folding, Automatic Feeding, Automatic Bartacking, it is mainly used to sew various ring-shape belts, used in children's clothes, suitcase, bags, hand bags, etc... the length of the sewn and folding circle is 100mm, with a maximum width of 40mm.
As the machine is installed with high-speed lockstitch sewing nose, it is suitable for all kinds of belt. The collocated airflow magnet valve and oil-free cylinder could prevent noise and oil contamination. Automatic device carries the belts to under the needle, thus away from worrying about hand infibulations and hence safe operation.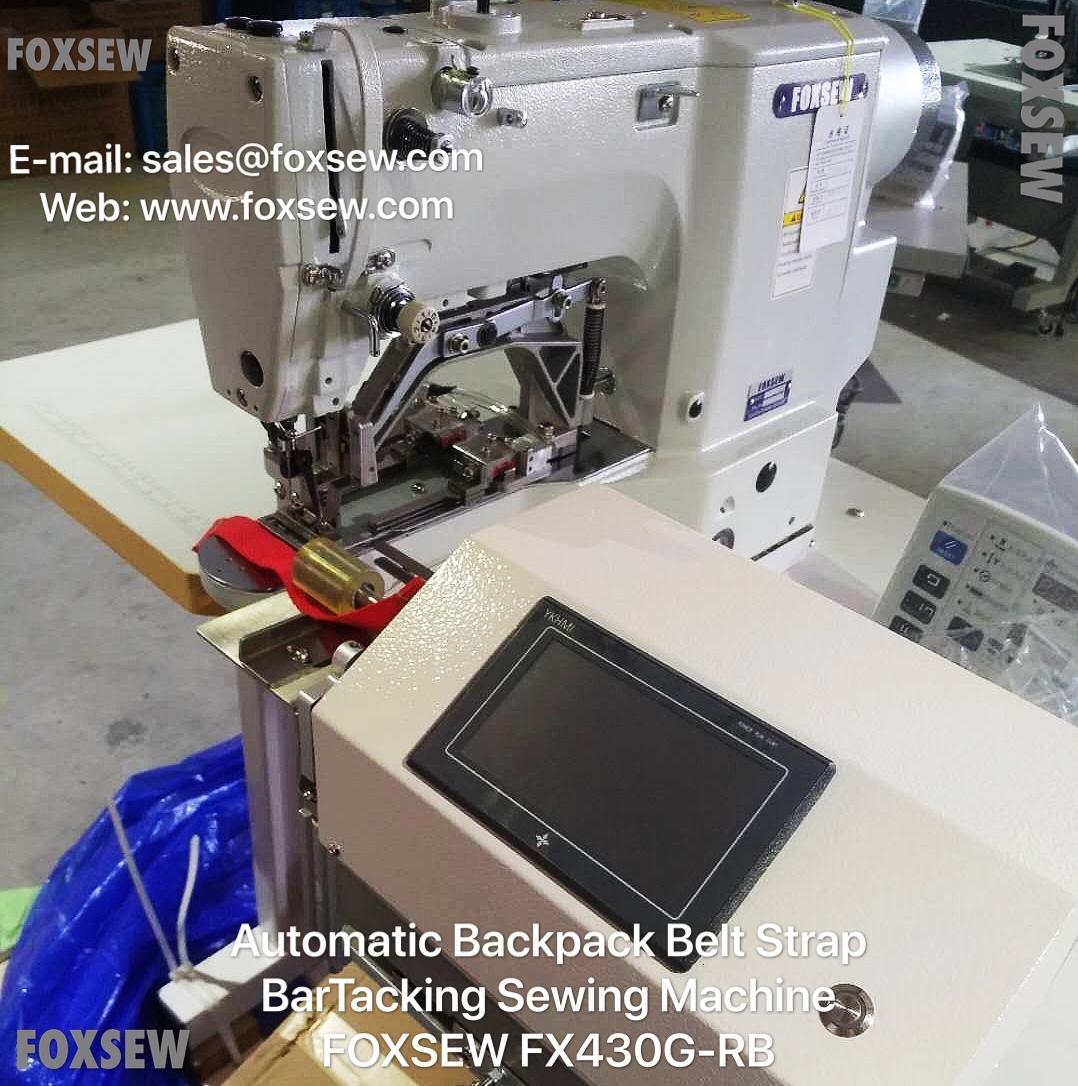 Characteristics:
(1) The biggest advantage is high-efficiency, the sewing speed improved at least 70% compare with the traditional belts or tapes sewing. Improve the working-efficiency highly. Reduce the labor cost.
(2) Set the programme by microcomputer, achieve automatic folding, automatic feeding, automatic bartacking, automatic, sewing, can ensure the belts and tapes sewing and bartacking accurately.
(3)The equipment gathers machine, electricity, gas in one, low noise, stable, no pollution.

Specifications:
| | |
| --- | --- |
| Model NO.: | FX430G-RB |
| Sewing Speed: | 3200 r.p.m |
| Sewing Area: | 40x30 mm |
| Stitch Length: | 0.05-12.7 mm |
| Max.Needle Numbers: | 5000 needles / pattern |
| Presser Foot Lift: | 21 mm |
| Motor: | 550W Servo Motor |
Product Images: Automatic Ring-Shape Belt Attaching Sewing Machine