Product Description
Automatic Jeans Belt Loop Setter, Automatic Beltloop Setter for Jeans
Fully Automatic Jeans Beltloop Attaching Sewing Machine
FOXSEW Double Needle Automatic Beltloop Setter, Automatic Double Needle Belt Loop Attaching Sewing Machine
Working Video-1: www.foxsew.com/company-video/automatic-2-needle-belt-loop-attaching-sewing-machine-1093.html
Working Video-2: www.foxsew.com/company-video/double-needle-automatic-beltloop-setter-sewing-machine-unit-1000.html
Working Video-3: www.foxsew.com/company-video/automatic-2-needle-beltloop-attaching-machine-for-jeans-1104.html
Working Video-4: www.foxsew.com/company-video/automatic-belt-loop-attaching-sewing-machine-1125.html
Working Video-5: www.foxsew.com/company-video/automatic-jeans-beltloop-setter-sewing-machine-859.html
Machine's Features: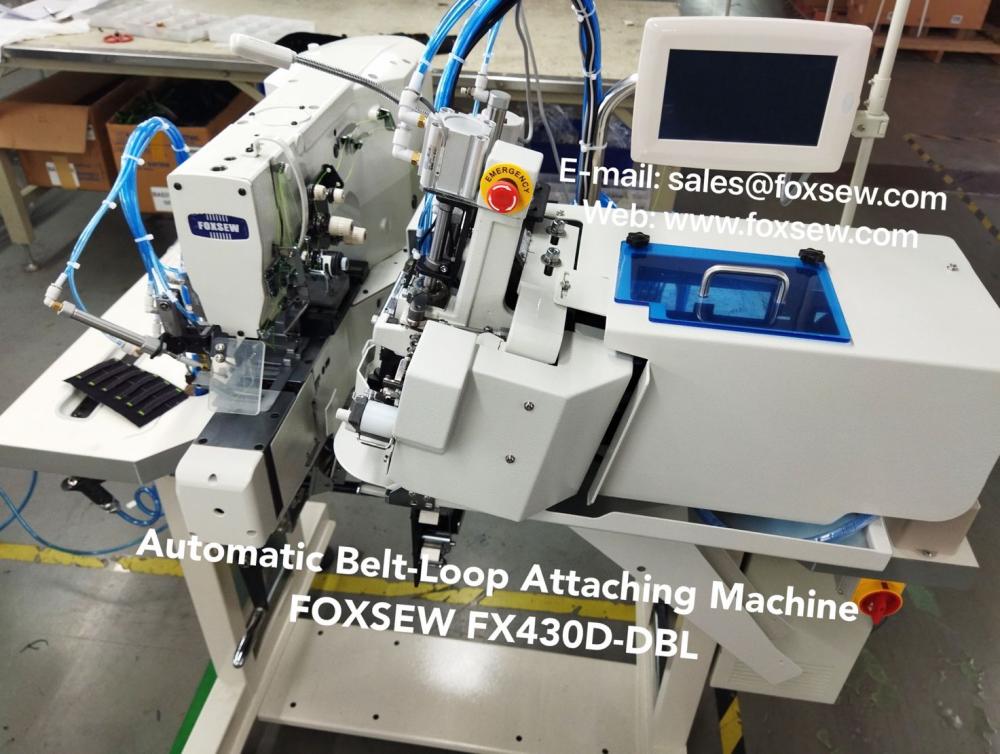 This machine adopts imported SMC electrical parts, fast operating speed, Logo Sensor can read different color to positioning singe logo, multi-logos which has best cost performance. Shape and feeding device, adopting gravity theory makes elastics vertical shaping and remove folding mark, meanwhile it has heating and preshrunk function. Different size, Elastic with logo, when you make one size and have to waste materials, you can use our machine to make two sizes to save the cost. Joint Sensor, Elastics is always used staple or tape for the joint, when the joint goes through the sensor machine will cut the joint and go on working. Automatic collection device, you can set the quantity for each rod by yourself. Large touch screen, easy to operate, just need to set up the parameter on the panel is ok, it`s very easy and convenient. Advanced device, nice side, adopting front block and back push air cylinder, make sure each elastics with neat side.

Working Video-1: www.foxsew.com/company-video/automatic-2-needle-belt-loop-attaching-sewing-machine-1093.html
FOXSEW Fully Automatic 2-Needle Belt Loop Setter, Double Needle Automatic Beltloop Setter Sewing Machine Unit, Automatic Double Needle Belt Loop Attaching Sewing Machine Workstation
Working Video-2: www.foxsew.com/company-video/double-needle-automatic-beltloop-setter-sewing-machine-unit-1000.html
Working Video-3: www.foxsew.com/company-video/automatic-2-needle-beltloop-attaching-machine-for-jeans-1104.html
Working Video-4: www.foxsew.com/company-video/automatic-belt-loop-attaching-sewing-machine-1125.html
Working Video-5: www.foxsew.com/company-video/automatic-jeans-beltloop-setter-sewing-machine-859.html
Machine's Features:
(1) Independent research and development of needle machine can be used to automatically set tab jeans and casual pants ear of a shape, easy to learn equipment operation, saving time and effort. Automatic screening, cutting, folding and tacking processes once completed, and has a simple mechanical construction, easy operation and flexible adjustment, production efficiency.
(2) The unique design of automatic detection device can filter out waste pants loop joints, and implements automatic filter removal.
(3) Touch-screen operating system application to facilitate the management pattern editing and data, operating functions at a glance.

This machine streamlines procedure of four workers as cutting belt, bar-tacking, carrying and other four workers of enforcement sewing on normal sewing machine. FOXSEW FX430D-DBL saves not only the salary of workers, in average 1000$, but also improve the working efficiency by 70%.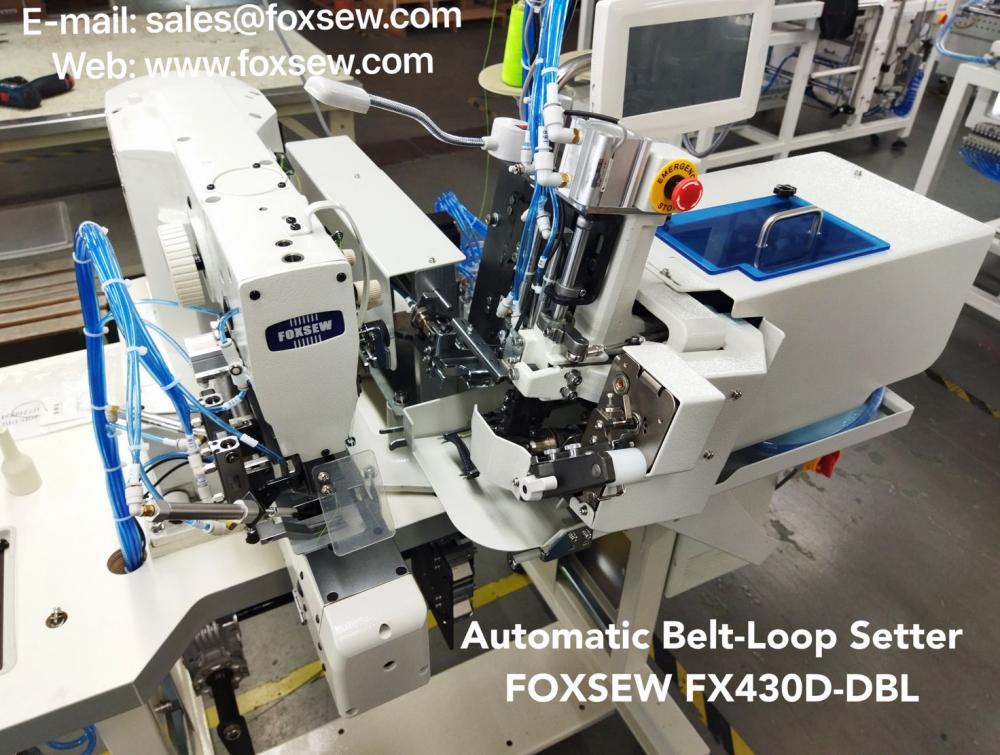 Specifications:
| | |
| --- | --- |
| Model NO.: | FX430D-DBL |
| Max. Sewing Speed: | 2700 r.p.m |
| Needle Type: | DPx17 19#-21# |
| Sewing Width: | 1.0-3.5 mm |
| Sewing Length: | 5.0-22 mm |
| Presser Foot Lift: | 21 mm |
| Weight: | 255 KGS |
| Belt Loop Width: | 7-20 mm |
| Bartacking Sewing Belt Length: | 45-75 mm |
Product Images: Automatic Belt Loop Setter