Product Description
Applications for climbing ropes, reinforcing kernmantle ropes, safety ropes, rigging ropes, lifting ropes, rubber ropes, sling ropes, static climbing ropes, dynamic climbing ropes, rope lanyards, rigging ropes, slings and cords, braided and twisted synthetic ropes climbing and caving ropes, boat ropes and marine ropes, rescue ropes, etc...

Programmable, Hot Thread Cutting, suitable for stitching all kinds of ropes made by Nylon, Polypropylene, Polyethylene and Polyester bartacking and reinforcing sewing eye terminations at end of ropes and cordage, with or without thimbles.
Product Details:
Automatic Heavy Duty Climbing Ropes Stitching Sewing Machine
FOXSEW Automatic Heavy Duty Climbing Rope Pattern Sewing Machine
Heavy Duty Automatic Pattern Tacking Sewing Machine for Climbing Ropes, Sling Ropes, Safety Ropes, Safety Belts and Harness.
Automated Heavy Duty Ropes Sewing Machine to stitching eye termination on climbing ropes and kernmantle ropes.
Heavy Duty Automatic Pattern Sewing Machine for Climbing ropes, synthetic slings ropes, webbing straps, lanyard ropes, safety belts, backpacks, and harness.
This machine provides the best sewing effect on the thick material reinforced seams and does not need the skilled technology to complete the sewing requirements. The heavy duty sewing machine adopts the large shuttle hook computer programming control to ensure high output and excellent stitching quality, no need to change bobbins frequently, greatly improving working efficiency.
FOXSEW Heavy Duty Programmable Electronic Automatic Pattern Sewing Machine for stitching Climbing Ropes.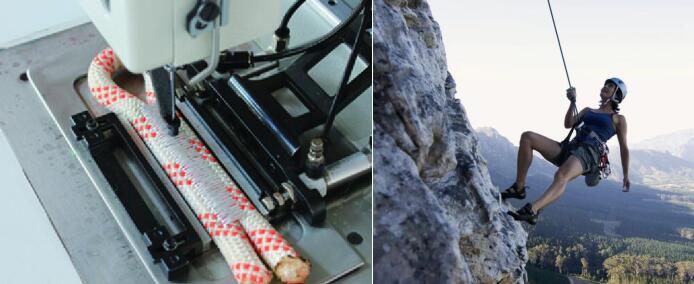 Application: Climbing ropes, Ropes and Cordage, Caving Ropes, Boating and Marine Ropes, Rescue Ropes, Kernmantle Ropes, Static Climbing Ropes, Dynamic Climbing Ropes, Rope Lanyards, Slings and Cords, Synthetic Lifting Slings, Seat Belts, Safety harness, Military equipment, Backpacks, Crane slings, Lanyard Cords,Safety Belts, Life Vest, Fall Protection Equipment, Industrial Safety Products, Rigging Products, Saddles and Parachutes, and all braided and twisted synthetic ropes made by Kevlar, Vinyl, Polypropylene, Polyethylene and Nylon, and Polyester, etc...
Features: Programmable, Automatic Hot Knife Thread Cutting, Extra large Barrel shuttle hook and bobbin capacity offer high efficiency, no need to change the bobbin frequently, Can sew 2-5 ply synthetic climbing ropes (3.5mm of each) together without any difficulty; This heavy duty programmable ropes stitching sewing machine is capable of sewing various materials such as Nylon, Polyester, Webbing, Polypropylene, Kevlar, Vinyl, Leather and Canvas; Hardware including Ratchet, shackles, thimbles, choker triangles and others can be sewn into the ropes for varying applications; Computerized, programmed, high automation to maximize savings in labor; Programmable (free software), updating and storage easier.

Specifications:
| | |
| --- | --- |
| Model Number: | FX-1202H |
| Used for: | Climbing Ropes Stitching |
| Sewing Area: | 120mm x 20mm |
| Sewing Speed: | 800r.p.m |
| Stitch Length: | 1-10mm |
| Presser Foot Lift: | 22mm |
| Needle Type: | DYx3 |
| Shuttle Hook: | Large Shuttle Hook KSP 204N |