Product Description
FOXSEW Automatic Waistband Attaching Workstation, Automatic Elastic Bands Hemming Station, Automatic Waistband Hemming Attaching Sewing Machine Unit, Automatic Waistband Attaching Setting Workstation.
Working Video: www.foxsew.com/company-video/automatic-elastic-waistband-setting-station-1448.html
DC electronic motor and microprocessor controls, Automatic start/stop, High production, Ergonomic design, Air assisted folder, Automatic cut apart, Eliminates elastic waste.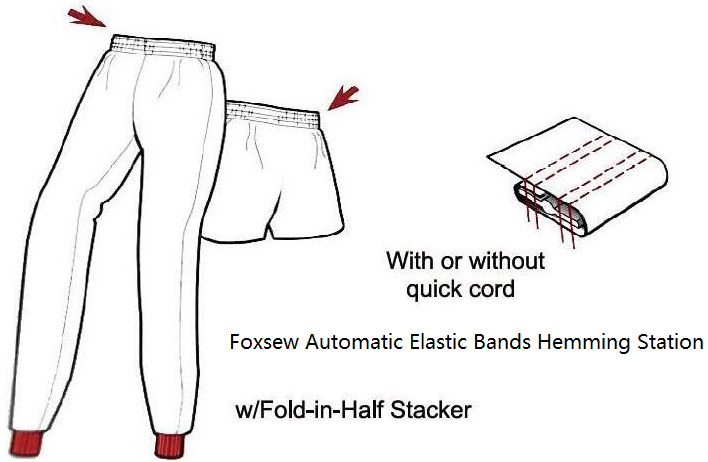 An electro-pneumatic device consisting of a variable speed puller, an impact type scissor controlled by a single retro-reflective eye, and a belt conveyor positioned to the side of the presser foot. This unit is designed to automatically cut raw rubber or narrow elastic between garment parts such as sweat pant legs. Automatic start and stop control reduces waste between pieces.
The operator presents the materials through a downturn hemmer and under the presser foot. Sewing begins automatically. Each successive part is sewn with ninimal gap to reduce elastic or rubber waste. The variable speed puller runs faster than the sewing speed and creates a larger gap. The retro-reflective eye senses the leading edge of each part and automatically cycles the scissor cutter to separate the parts. The side converyor carries the leading edge to the puller and prevents the gathered materials from jamming. Automatic stop and start to minimize elastic between pieces and ergonomically designed tabling for stand up operation.
Product Images: Automatic Elastic Waistband Attaching Station