Product Description
FOXSEW Automatic Jeans Pocket Hemming Sewing Machine ChainStitch, Automatic Jeans Pocket Mouth Curling Sewing Machine Chain Stitch
Working Video-1: www.foxsew.com/company-video/automatic-jeans-pocket-hemming-sewing-machine-997.html
Working Video-2: www.foxsew.com/company-video/automatic-jeans-pocket-mouth-curling-sewing-machine-998.html
Working Video-3: www.foxsew.com/company-video/automatic-jeans-pocket-mouth-curling-sewing-unit-852.html
Features: 1. It is convenient and easy to operate, And the simple structure will improve the work efficiency of the sewing machine greatly. 2. With sensor switch and feeding system. The new feeding system can apply to all kinds of cloth,differernt thickness and different fabic including jeans, elastic fabics. 3. The cloth-pressing device adopts the composite wheels in the feeding part of the sewing section. It can press the pocket mouth curling to prevent it dispersing and deviation. Improve the product quality greatly. 4. The automatic trimmer. automatic receiving part can lighten the work intensity greatly. 5. While in testing, the machine is with lifting device and movable platform.it can prevent fabric jammed and easy repairing.
No curling edge exposed, the width of the curling edge and the stitch length are adjustable, one machine can complete daily production capacity, no requirements of operation skills is raised.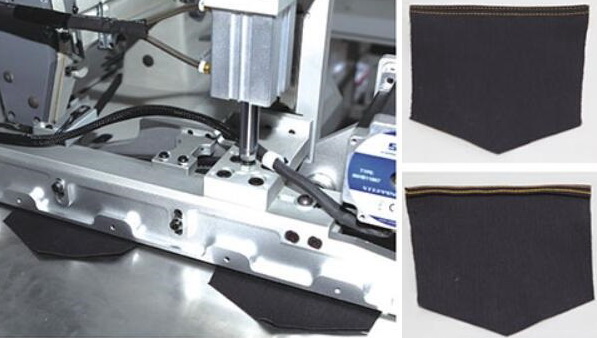 Specifications:
| | |
| --- | --- |
| Model NO.: | FX8833D |
| Sewing Speed: | 4000 r.p.m |
| Stitch Length: | 1/4 (6.4mm) Standard |
| Needle: | TVx7 |
| Presser foot lift: | 10 mm |
| Packing Size: | 107x100x124 cm |
| Weight: | 200 KGS |
Product Images: Automatic Jeans Pocket Hemming Machine