Product Description
FOXSEW Automatic Rib Knit Bottom Band Setting Station, Automatic Rib Knit Waistband Attaching Sewing Machine Unit
Shirt and band may be tubular or with side seams
Working Video-1: www.foxsew.com/company-video/automatic-rib-knit-band-setting-station-1449.html
Working Video-2: www.foxsew.com/company-video/automatic-rib-knit-bottom-bands-setter-station-1455.html
DC electronic motor and microprocessor controls, Tandem operation, Reduces ergonomic risk, Minimizes fabric waste, Uniform gathering, Dual electronic active edge guiding system, Automatic stacking, Increased production, Piece counter.
The operator folds the circular rib knit piece in half to form a band and places it over the expansion guide rollers, The rollers automatically expand for loading the body, The body is loaded over the rollers and band and a touch of the start sensor expands the rollers to sew position and indexes the parts under the presser foot and sew cycle begins. The operator is free to load a second machine. When the finished seam is sensed, the parts are oversewn a predetermined distance, thread chain is cut, and the part is automatically stacked.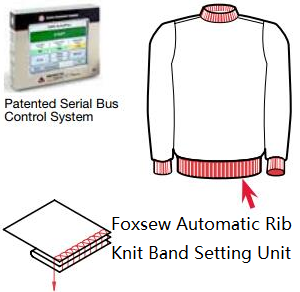 An automatic workstation for sewing circular rib knit bottom bands on sweatshirts. This unit incorporates a cylinder arm overlock sewing head with vacuum thread trimmer, electronic controls, dual electronic active edge guiding system for band and body, and pneumatic expansion rollers with automatic stacker.
Product Images: Automatic Rib Knit Band Setting Station