Product Description
FOXSEW Automatic Two Needle Hemmer for Sleeves and Shirt Bottoms, Automatic Hemming Machine for Shirts Sleeves and Bottoms, Automatic Flat Bed Hemming Machine for Sleeves and Shirts Bottoms
Working Video-1: www.foxsew.com/company-video/automatic-two-needle-hemmer-for-sleeve-and-shirts-bottom-1450.html
Working Video-2: www.foxsew.com/company-video/automatic-open-hemming-machine-for-shirts-bottoms-and-sleeves-1457.html
Working Video-3: www.foxsew.com/company-video/automatic-flatbed-bottom-hemmer-for-shirts-and-sleeves-1456.html
Patented Serial Bus Control System, DC electronic motor and controls, Reliable edge trimmer, Fold-in-half & stack or stack only, Stacker and return conveyor for bottom hemming available, Optional imitation cuff attachment (patented).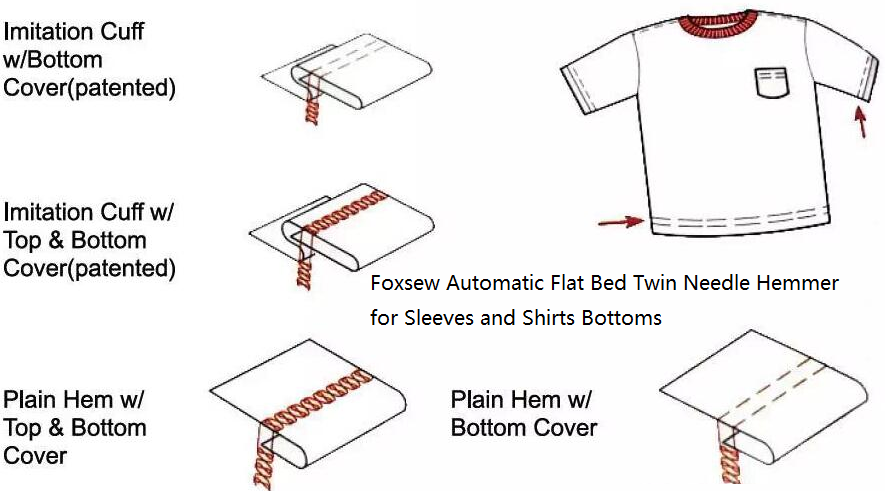 An electronically controlled workstation consisting of a conveyorized downturn hemming apparatus with two-or-three needle bottom and/or top coverstitch sewing head, electronic motor, automatic edge trim and cut apart, and self-contained waste disposal.
The operator places parts to an edge guide and initiates sewing, the sewing machine unit will continue sewing as long as parts are placed on the conveyor within a specific distance. The sew cycle will stop if the operator fails to position the next part. Edge Guiding system, pocket loading station, thread handling, fold in half stacker, top coverstitch with 3-needles are also available.