Product Description
Applications for ornamental decorative stitching on Luxury Leather Sofas, Car Interiors, Automotive Upholstery, Fabric Sofas, Leather Armchairs, Leather Recliners, Suitcase, Bags and Handbags, Shoes, Footwear, Leather Coat and Jackets, Down Coats, Furniture Upholstery, Couch Lounge, Marine Upholstery, Aerospace Upholstery, Sports Apparatus, Office Furniture, Soft Cushion, Jeans Clothing, Car Seats, Sports Products, Leather Articles, Leather Belts, Awnings, Outdoor Wear, Yacht Interior Trims, Safety Harness, etc...

Computerized Programmable, Post Bed, Double Needle, Rotating Needle Bar, Compound Feed Walking Foot, Large Barrel Shuttle Hook and Bobbin, More than 200 different Ornamental Decorative Stitches, Like X cross seam stitch, square seam stitch, up to 14mm stitch length etc...
Product Details:
Post Bed Double Needle Heavy Duty Thick Thread Ornamental Decorative Stitch Sewing Machine
FOXSEW FX-204-370-2A Double Needle Post Bed Heavy Duty Thick Thread Walking Foot Triple Feed Ornamental Stitching Sewing Machine for Decorative Seaming on Leather Sofa and Automotive Upholstery.
Post Bed Sewing Machine Twin Needle Triple Feed Large Barrel Shuttle Hook, Suitable for Twin Needle Seams and Decorative Seams on Thick Materials and Leather with Braided Thread
Post Bed Leather Sofa and Auto Upholstery Ornamental Decorative Seam Stitch Sewing Machine, Post Bed Heavy Duty Thick Thread Leather Sofa Ornamental Stitching Sewing Machine, Heavy Duty Post Bed Ornamental Stitching Machine for Sofa and Leather Upholstery, Post Bed Ornamental Decorative Stitch Machine for Leather Sofa and Fabric Upholstery, Computer Post Bed Leather Sofa Upholstery Ornamental Decorative Stitching Sewing Machine.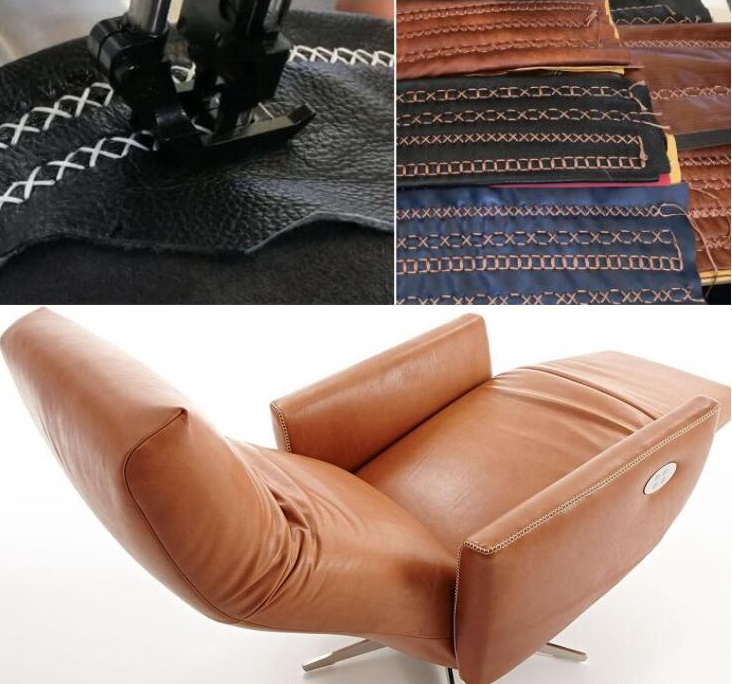 Two Needle Post Bed Computerized Programmable Ornamental Decorative Stitch Sewing Machine, which is special for stitching on luxury sofas, automotive upholstery, recliners, armchairs, leather coats, leather shoes, leisure clothing, jeans, down coats, handbags, bags and suitcase, and other upholstered furniture, shoe wear, car seats, leather bags. This machine is Post bed programmable and is delivered standard with 200 different ornamental decorative stitch patterns, like X Cross-seam stitching, square-seam stitching, etc... The powerful compound triple feed walking foot mechanism to produce a positive feeding motion for various padded and non padded materials like leather, fabric, microfiber, thick clothing materials as e.g. jeans fabrics, automotive interior for high demands, home upholstery and home textiles; The special extra large barrel shuttle hook and bobbin capacity offers high efficiency in sewing products using extra thick thread up to metric size 8 and 1.2mm Sera braid thread - the braided thread for decorative seams, up to 14 mm long stitches for decorative topstitching seams.
Applications: Luxury Leather Sofas, Fabric Sofas, High-grade Car Seats, Leather Clothing, Car Interiors, Armchairs, Recliners, Leather Shoes, Furniture Upholstery, Automotive Upholstery, Yacht Upholstery, Marina and Aviation Interior, Leather Bags, Handbags, Car Seats, Leather Belts, Sofas, Jeans, Airbags, Leather Car Mats, Tents, Awnings, Umbrellas Handbags, Luggage, Jeans, Fashion Bags, High end Leather Handbags, Hot Rod and Custom Car Upholstery, Tents, Footwear, Shoes Uppers, Saddles, Suitcases, Sunshades, Safety Harness, Toys Industry.
The Kinglead KD-204-370-2A is a well designed post bed triple feed walking foot ornamental decorative patterns stitching sewing machine for use on medium to heavy weight materials such as: Leather, Synthetic Leather, Sports Apparatus, Vinyl, Coated Fabrics, Canvas, Jeans, Synthetics, Webbing and Upholstery Materials, etc... It`s controlled by Servo Motor, easy operating, no skilled-required, widely used is various different industries.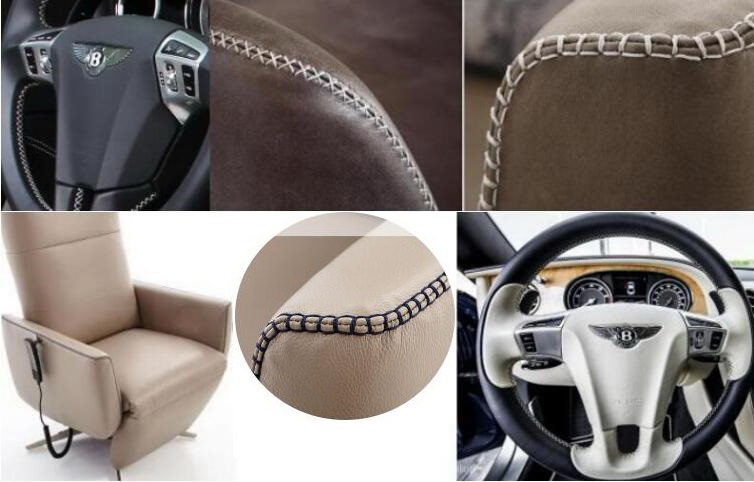 Specifications:
Model NO.:

FX-204-370-2A

FX-204-370-A

Number of Needle:

2

1

Max. Sewing Speed:

400r.p.m

Needle Gauge:

7.94mm-18mm

Stitch Length:

0-14mm

Operating Space:

320mmx340mm

Needle Type:

DYx3 27#

Presser Foot Lift:

22mm

Needle Bar Stroke:

56mm

Hook:

Large Barrel Shuttle Hook KSP-204N

Height of Post Bed:

140mm

Lubrication:

Manual

Weight:

200KGS
FOXSEW Double Needle Post Bed Leather Sofa Ornamental Stitch Sewing Machine