Product Description
Twin Needle Unison Feed Walking Foot Heavy Duty Leather Sewing Machine with Split Needle Bar
FOXSEW 2-Needle Unison Feed Lockstitch Sewing Machine with Organized Split Needle Bar and Large Vertical Axis Hook.
FX-1565N-7 Twin Needle Triple Feed Split Needle Bar Lock Stitch Sewing Machine with Automatic Thread Trimmer.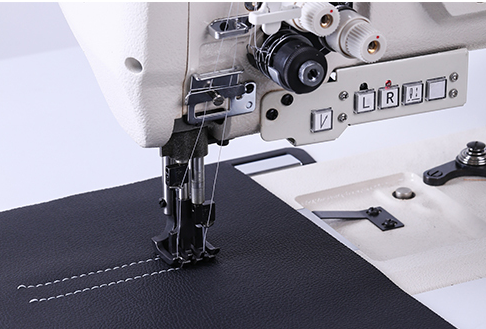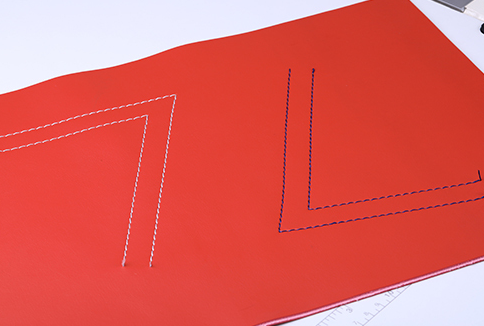 Applications: Leather Sofas, Fabric Sofas, Automotive Upholstery, Car Interiors, Shoes, Furniture Upholstery, Car Seats, Leather Bags, Handbags, Safety Belts, Sofas, Jeans, Jumping Castles, Car Covers, Container Bags, Airbags, Leather Car Mats, Tents, Awnings, Umbrellas Handbags, Luggage, Seat Belt, Airbags, Marina and Aviation Upholstery, Travel ware Accessories, Lorry Curtain Sidings, Camping Goods, General Canvas Work etc...
The organized split needle bar mechanism makes it possible to stop or reset the left or right needle by operating a one-touch utility lever, so it`s suitable for making corner stitch and angle seams sewing process. The machine produces neatly finished stitches at corner parts of the materials; The standard 2-needle type machine that delivers the basic functions and performance best suited to the sewing of heavy materials; The stitch length can be easily selected by the stitch dial; The machine is provided with many improved features that offer enhanced operate such as an easy-to-observe area around the needle, placement of the bobbin winder on the front face of the machine arm, and a large hand wheel (160); The machine is full-open-type top design makes it possible to fully open the top of the machine arm. Thanks to this design, adjusting works can be done without tilting the machine head; The machine is equipped as standard with a safety clutch for preventing hook breakage.



Specifications:
Model NO.:

FX-1565N

FX-1565N-7

Automatic Thread Trimmer:

No

Yes

Max. Sewing Speed:

2500r.p.m

Needle Gauge:

Standard: 6.4mm, 3.2mm, 4mm, 4.8mm, 9.5mm, 12.7mm, 16mm, 19mm, 25.4mm and any special gauge is available

Operating Space:

255mmx105mm

Stitch Length:

0-9mm

Presser Foot Lift:

By Hand: 9mm, By Knee: 16mm

Needle Bar Stroke:

36mm

Thread Take-up lever stroke:

74.5mm

Needle Type:

DPx17 19#-23#

Hook:

Vertical-axis Large Hook

Lubrication:

Automatic Lubricated

Safety Clutch Device:

Yes
FOXSEW Twin Needle Unison Feed Walking Foot Heavy Duty Leather Sewing Machine with Split Needle Bar