Product Description
FOXSEW Programming control double needle rotary needle bar sewing machine
FX-1560D-550
Applications for stitching Sofa Furniture, Automotive Upholstery, Car Interiors, Leather Sofas, Fabric Sofas, Shoes, Leather Armchairs, Leather Recliners, Bags, Sports Products, Car Seats, Leather Articles, Belts, Canvas, Tents, Awnings, Handbags, Outdoor Wear, Straps, Camping Goods etc...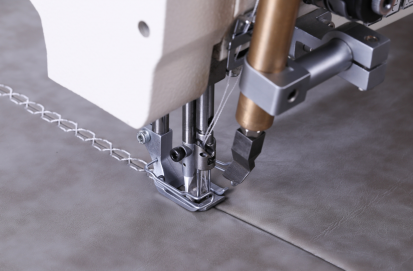 This machine has controlled the frontal sewing back tacking Zero Stitch length and rotary needle bar by the programming,According to the permutation and combination,it can sew different kind of decoration pattern stitch. It can set more than 20 kinds of pattern for fingle needle and double needled . The worker can change the pattern by the touching screen simply.Three parts compound feed construction can make the sure feed smoothly while sewing heavy duty pattern and difficult to move the upper and lower material ,even the needle bar is in shaking feed during rotary. The functions of pneumatic presser foot lifting and pneumatic adjusting alternating amount of presser oot instantaneously make the sewing operation more relaxed.
Application : Pattern stitch of decoration preocess for soft furniture car seat and bags .