Product Description
Applications for ornamental decorative pattern stitches on Luxury Sofas, Car Interiors, High-end Leather Clothing, Fabric Sofas, Leather Armchairs, Leather Recliners, Suitcase, Moccasin Shoes, Footwear, Leather Coat and Jackets, Down Coats, Furniture Upholstery, Automotive Upholstery, Sports Apparatus, Office Furniture, Soft Cushion, Jeans Clothing, Car Seats, Leather Shoes, Handbags, Bags and Suitcase, Sports Products, Leather Articles, Leather Belts, Awnings, Outdoor Wear, Boat and Marina Upholstery, Aviation Interior, etc...

Computer Controlled, Double Needle, Top and Bottom Feed, Walking Foot, Large Barrel Shuttle Hook, Large Bobbin, More than 200 different Ornamental Decorative Stitches, Like X cross seam stitch, square seam stitch, etc...
FX-266-102C
Heavy Duty Single/Double Needles Electronic Pattern Sewing Machine
This machine is another new equipment for thick thread decoration sewing, the
pressure thread machine using own developed operating software, through needle bar rotary technology to implement different pattern, include T type, X type, Mouth type, etc. Totally can reach 298 patterns. After Italy's most famous furniture manufacturer` s improvement, in the corner of the sofa and car seat cover open-line wire sewing work can also make sure the sewing speed and beautiful stitch.
This machine using the DURKOPP ADLER 204 extra big shuttle hook, increase capacity of thread, reduce the changing time, improve work efficiency; can use the extra thick thread(1500dx3, V415, V462, T-500 or 1.4mm cored thread, flat thread or deco-rative thread), is indispensable sewing equipment for high-grade sofa and car seat cover manufacturers. Strong vertical needle penetration, special presser foot and precision of
stitch regulator device, make sure the sewing cross keep unified perfect stitch seams,avoid casting, floating thread, short stitch, jump needle and thread in one etc defects. Using extra thick thread for sewing open-line sofa cover or a car sits set, its advantage is more obvious; also can be embedded thread decoration seam at the same time.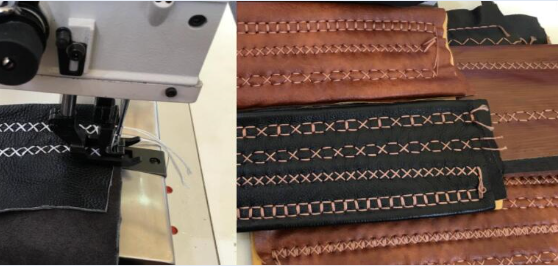 Application: dermal sofa, cloth art sofa, leather car seat covers, car seat cover
cloth art, soft furniture, tent, uppers, leather shoes, casual shoes, bags, bags, jeans,
denim clothes, harness and all kinds of furniture manufacturing industry flat-fell seam,
the thick thread decoration seam.
Technical parameters
MODEL: FX-266-102C
MAX SPEED : 350r.m.p.
MAX STITCH LENGTH :10mm(0-10)
SEWING PATTERNS :298 Types
NEEDLE BAR STROKE: 50.8mm
NEEDLE :DYx3 27#
SHUTTLE HOOK :KSP-204
PRESSER FOOT LIFTING HEIGHT: 10mm
NEEDLE GAUGE :5.5-12mm
WORKING SPACE :320 x 185mm
MOTOR: 550W 1400r.m.p