Product Description
FOXSEW Long arm single needle compound feed sewing machine with auto trimming
It's long arm type machine with L650mmxH105mm on the basis of single needle machine FX-1510N-7 . It adopts horizontal large hook,and can sew maximum thread of 9 stands nylon.
Applications: Leather Sofas, Car Interiors, Fabric Sofas, Automotive Upholstery, Shoes, Furniture Upholstery, Car Seats, Leather Bags, Handbags, Safety Belts, Sofas, Jeans, Jumping Castles, Car Covers, Container Bags, Airbags, Leather Car Mats, Tents, Awnings, Umbrellas Handbags, Luggage, Seat Belt, Airbags, Marina and Aviation Upholstery, Travel ware Accessories, Lorry Curtain Sidings, Camping Goods, General Canvas Work etc...
This machine is with larger needle bar stroke, higher presser foot lift, and newly adopted double-tension mechanism, the machine offers excellent sewing capabilities and responsiveness. The machine's rectangular feeding motion promises the consistent feeding of materials of all thicknesses without stitch gathering.
This machine adopts vertical axis large hook, can sew maximum thread of 9 strands nylon, Adjustable alternating amount of presser foot by hand is convenient for climbing over the thick spots, Alternating Presser Foot, needle and feed dog are feeding at the same time, so that it can achieve stable and high efficiency compound feed system. It can also make sure feed smoothly while sewing heavy duty and complicated materials, and difficult to move for upper and lower materials. Applications for sewing and abutted seam process for sofa, office chair, leather products and outdoor goods. The stitch length can be easily selected by the stitch dial; The machine is provided with many improved features that offer enhanced operate such as an easy-to-observe area around the needle, placement of the bobbin winder on the front face of the machine arm, and a large hand wheel (160); The machine is full-open-type top design makes it possible to fully open the top of the machine arm. Thanks to this design, adjusting works can be done without tilting the machine head; The machine is equipped as standard with a safety clutch for preventing hook breakage. Optional parts: Side Presser Foot, Positioning Presser Foot, Adjustable Positioning Device.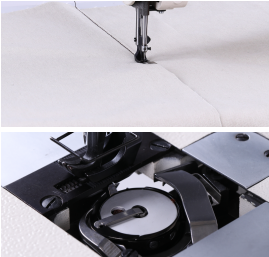 Specifications:

FOXSEW Long arm single needle compound feed sewing machine with auto trimming