Product Description
Applications for stitching Luggage Case, Bags, Backpacks, Handbags, Leather Bags, Bags, Golf Bags, Fishing Bags, Suitcase, Baseball Gloves, Suitcase Handles, Saddles, Leather Sofas, Fabric Sofas, Leather Armchairs, Leather Recliners, Sports Products, Safety Bags, Tents, Seats, Soft Cushions, Harness, Leather Shoes, Safety Harness, Filters, Sheath, Footwear, Car Upholstery, Marine Upholstery, Aeroplane Upholstery, Yacht Upholstery, Furniture Upholstery, Safety Belts, Military Belts, Softball Bags, Industrial Bags, etc..

Long Arm, Cylinder Bed, Triple Feed, Walking Foot, Compound Feed, Large Hook, Large Bobbin, Alternating Presser Feet, Extra Heavy Duty, Lockstitch Sewing Machine
Product Details:
Long Arm Cylinder Bed Walking Foot Unison Feed Heavy Duty Leather Sewing Machine
FOXSEW Long Arm Single Needle Compound Feed Cylinder Bed Leather Sewing Machine
Applications: Luggage Case, Bags, Backpacks, Handbags, Leather Bags, Bags, Golf Bags, Fishing Bags, Suitcase, Baseball Gloves, Suitcase, Filter Bags, Tents, Leather Sofas, Webbing Slings, Automotive Interior Trims, Leather Shoes, Saddles, Safety Harness, Filters, Footwear, Car Upholstery, Marine Upholstery, Furniture Upholstery,Polyester Lifting Slings, Safety Belts, Military Belts, Golf Bags, Softball Bags, Cargo Straps, Filters, Industrial Bags, Industrial Safety Products, Tire Covers and Chairs Border etc...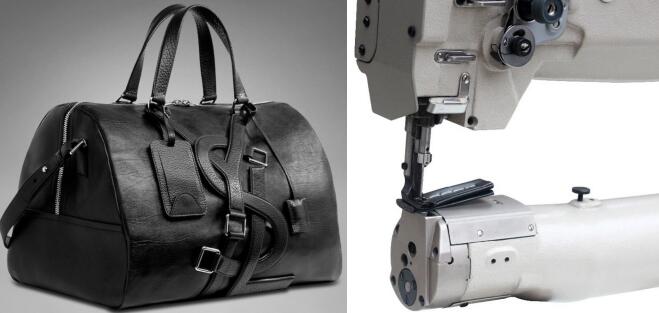 The machine available for sewing wallets, purses, leather bags, chaps, jackets, vests, handbags, belts, upholstery, saddlebags, boots as well as automobile and boat covers, sails, tents, awnings, luggage, orthopaedic appliances, sports equipment, jawing jeans, tents. Seat cushions, leather goods etc. The adoption of automatic lubricating system guarantee the stable sewing performance, high efficiency and excellent quality. Best fit for sewing packages, sports goods, toys, phone cases, shoes. Twofold big kettle and shuttle can avoid change often, less waste, improve efficiency. Competitive material feed setting, smooth sewing, high quality. New style adjust setting, adjust onward and backward sewing simply. New style double pivot inverse sewing setting, stand against friction, precise after long time usage. sewing speed:2200rpm needle pole journey:38mm stitch length: 8.0mm cylinder dia:47mmheight of presser foot:15mm needle:DPx17 fluctuate height of presser foot: 2-6mm
This machine is specially designed for luggage manufacturing cylindrical thick flat sewing machine, solid structure, modelling is novel. Adopts sliding bar pick line, constitute a double lock stitch, upper and lower shaft with synchronous toothed belt transmission. Presser foot, feed dog, needle feed and lever type stitch regulator. High voltage foot pieces, high pressure foot clearance and stitch length cooperate with cylindrical seaming machine. Is suitable for sewing heavy bags, luggage, mattress, especially suitable for the bags around.
Features: At the base of up-down Synchronized feeding material, we develop the up feeding materials single system which is distinguished from the down feeding materials, to make feeding materials synchronized, as the specialized equipment of flap cover, it adds the versatility and practicality in sewing heavy materials. Side Presser Foot, Positioning Presser Foot, Adjustable Positioning Device, Tape Binding Device are all available for more options. A full synchronized binder version is also available which features a special triple feeding set and synchronized bottom plate with binder attachment for professional binding applications.
Specifications:
| | |
| --- | --- |
| Model NO.: | FX-2341L |
| Max. Sewing Speed: | 2000r.p.m |
| Arm Length: | 600mm, 800mm, 1000mm are available |
| Stitch Length: | 0-11mm |
| Presser Foot Lift: | 0-15mm |
| Diameter of Cylinder: | 46mm |
| Needle Type: | DPx17 #18-#23 |
| Weight: | 65KGS |
| Bed Type: | Small Cylinder Bed |
| Presser Foot: | Walking Foot |
| Feed System: | Compound Feed, Triple Feed |
| Hook: | Large Hook |
FOXSEW Long Arm Compound Feed Walking Foot Cylinder Bed Leather Sewing Machine