Product Description
FOXSEW Top and Bottom Feed Multi Points Heavy Duty Zigzag Sewing Machine for Decorative Seams on Leather and Fabrics, 2-Points, 3-Points and 4-Points Zigzag Stitches.
With Double Presser Foot, Change Cams to make different points zigzag stitches, 1-step 2-points, 2-step 3-points, 3-step 4-points.

Working Video: www.foxsew.com/company-video/top-and-bottom-feed-multi-points-thick-thread-zigzag-sewing-machine-for-decorative-stitching-417.html
Application: Leather Sofas, Fabric Sofas, Automotive interiors, Jeans, Fashion bags, High end leather handbags, Tents, Footwear, Shoes uppers, Saddles, Suitcases, Sunshades, Toys and decorative stitching for all kinds of Leather Upholstery.
Features: The new design could realize zigzag sewing machine at many points. It adopts semi-rotate large oscillating shuttle, which could reduce the times of changing bobbin and realize sewing for thick thread. Thick material and decorating sewing. It is suitable for zigzag sewing, both cut sewing and decorating sewing of sofa, cushion shoes, and leather products.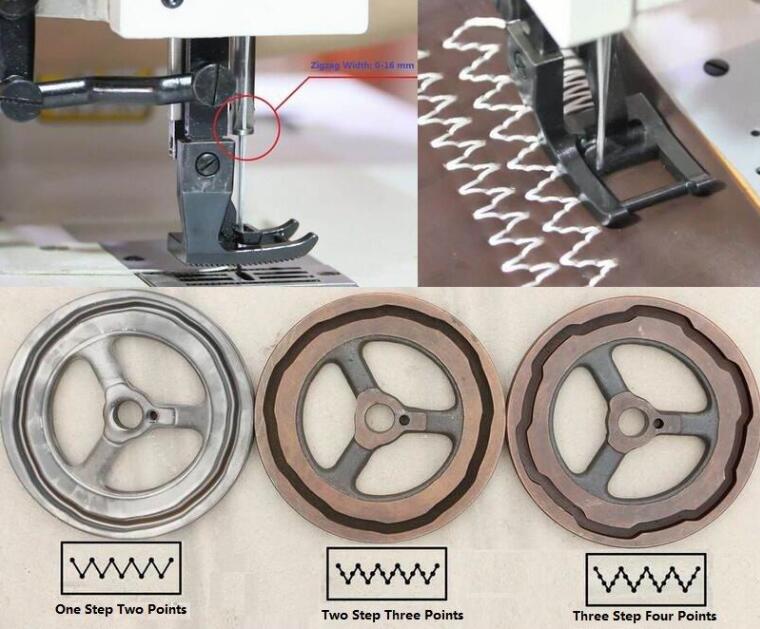 Specifications:
| | |
| --- | --- |
| Model | FX-204-104 |
| Max. Sewing Speed | 800 r.p.m |
| Stitch Length | 0-10 mm |
| Presser Foot Lift | By hand: 10 mm By Knee: 15 mm |
| Needle Type | DYX3 21#28# |
| Width between needle point tracers | 0-16 mm |
| Shuttle Hook | KSP-204N |
| Motor | 550W Clutch Motor, 1400 r.p.m |